Welcome to the S. M. Stirling Wiki
about the author's work (excluding the Emberverse)
with 382 articles since February 2009
To join the Emberverse community, please visit Emberverse Wiki
Series and Novels
Other Works
WARNING
This wiki contains spoilers; virtually every page contains plot elements.
(Articles about unpublished books, characters and events are prohibited.)
The Author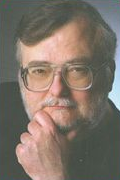 I'm a writer by trade, born in France but Canadian by origin and American by naturalization, living in New Mexico at present. My hobbies are mostly related to the craft—I love history, anthropology and archaeology, and am interested in the sciences. The martial arts are my main physical hobby. (Source:
S. M. Stirling's web page
)
New articles
To write a new article, just enter the article title in the box below.
Things to do
Help contribute to developing our short policy.
Find out more about the wiki on the About page.
Select a "Random Page", and see if there's something to be done.
Error corrections: Is there something on any page that doesn't read quite right? Go ahead, fix it.
Check out and comment on:
Every wiki has two list of articles that need help called "Stubs" and "Wanted Articles". Don't be shy, get in there.
Uploading images is another really easy way to help out - see the Special:Upload page!
You can find a list of useful templates on Category:Templates.
Check out the community portal to see what the community is working on.
Other Alternate History Wikis